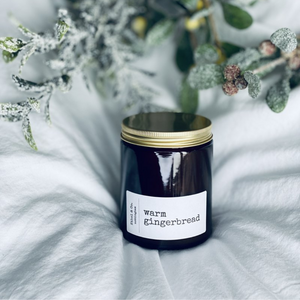 This candle smells so delicious I don't know whether to light it or lick it! * 
It is so YUM that I find myself sniffing it, even when unlit, just to get a waft of it!  It has the aroma of spicy warm gingerbread rich with nutmeg, cinnamon, and brown sugar which will evoke childhood memories of making gingerbread men and houses.
Perfect for spreading the festive glow throughout your home this season.
*As delicious as this candle smells it is not food and should not be licked or consumed.

Ethel & Co only use 100% Cocosoy wax which burns cooler, cleaner and longer than soy or paraffin waxes and lead-free cotton wicks. Cocosoy wax is a natural non-toxic product.

All hand made by their team in Nottingham to ensure an impeccably high standard of quality.

Their candles are petroleum-free, cruelty-free, phthalate-free and 100% vegan.

180ml.