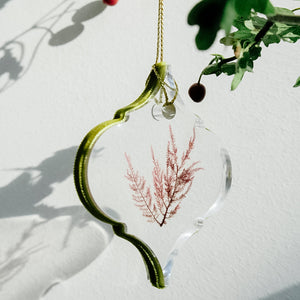 An entirely unique handmade decoration to bring a touch of the coast to your Christmas.
Each single decoration contains a delicate frond of beautiful pink or purple seaweed which has been washed up on the Cornish Coast and hand pressed within eco-resin so that your decoration is one-of-a-kind.  The bauble is trimmed with a luxurious olive green velvet.
Burgundy velvet edged baubles are also available HERE.
Do note that as each piece of seaweed is completely individual, the bauble you receive will look different to the image shown but it will be similar.  Also some larger pieces of seaweed release little bubbles during the drying process which may be visible within your bauble - all part of their unique character.
Baubles are approx 7.5cm high x 6.5cm wide (at this widest point)