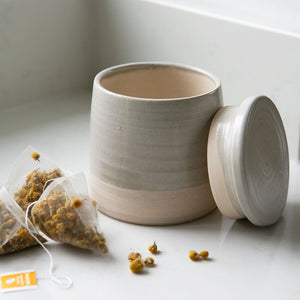 I adore a pot - I find them so useful whether in the kitchen, bedroom or bathroom.  These lidded jars from Claire Folkes Ceramics, a small batch potter in rural Essex are just beautiful.  Each one is entirely hand thrown on the potters wheel in her studio and are perfect for storing tea, coffee, sugar or even your sourdough starter in the kitchen or you could use them for cotton buds, make up removal pads or hair ties in your bathroom or bedroom. 
I love this pot with its soft grey glaze, perfectly neutral to fit any setting.  It's been fired to 1240 degrees to make it fully water tight and suitable for the dishwasher.

Claire says her work is designed to be used, handled and loved and you can't help but love the simple beauty of this pot.

As each one is individually hand made, sizes and glazes may vary slightly from the image, but these pots are approved 9-10 cm tall with a 9-10 cm diameter.

To see our full collection from Claire Folkes ceramics click here