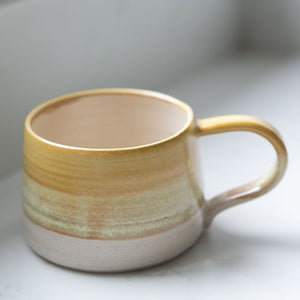 How about a gorgeous ray of sunshine for your morning cup of tea?
I love these mustard mugs with their warm, sunny glaze.  Hand thrown and glazed each one is entirely individual.
They have a clear high gloss on their lower section and a beautiful ombre effect where the two glazes overlap.
6.5cm tall approx
9cm diameter
Dishwasher and microwave safe.
As each mug is hand thrown and glazed, the colour and size will vary between mugs.
 To see our full collection from Claire Folkes ceramics click here