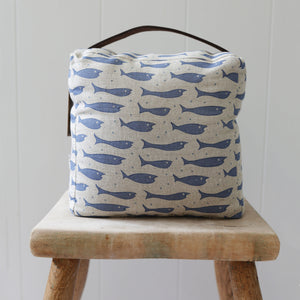 This fishes fabric from Olive & Daisy is one of my absolute favourites.  I dream of owning a home by the sea and when I do this will be my doorstop.  Doorstops are so useful, especially in our cottage.  We use several and like all my home accessories I demand they be functional, high quality and something that gives me joy every time I spot it and these doorstops tick all three boxes!
Handmade by Louise at Olive & Daisy on the vintage sewing machines in her workshop in the Lincolnshire Wolds, these doorstops are heavy enough to keep your door open but also a joy to have in the home. 

We love the detail of the chocolate leather handle as well as the gorgeous Little Fishes linen 

Measures: 19cm W x 9cm D x 19cm H
Approx 2kg
For the full Olive & Daisy collection available at Rhubarb & Hare click here.