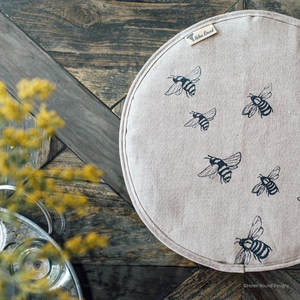 I love my aga tops and change them seasonally.  Always a quick and simple way to refresh the kitchen and add a splash of interest or colour when you want an easy change.
I am a massive fan of Helen's Bee Collection, inspired by her beekeeping father, and these tops in that bestselling hand printed linen are just lovely.
Like all her designs, these are printed in her studio in Cornwall, using water based inks and sewn together by her small team of artisans.
Backed with heavy Italian towelling and a layer of wadding sandwiched between the two, each aga top is beautifully finished with a matching linen bias edging and a single line of stitching.
Please note these are sold as singles
Approx size 37cm
Pure linen top,  with polyester wadding and towelling base
Machine wash at 30 degrees
Hand Printed and Made in Cornwall
You can view our full Helen Round collection here