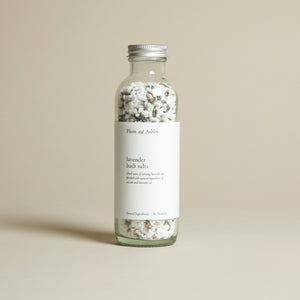 This Lavender bath range from Plum & Ashby is an absolute treat. Not only will the apothecary style glass bottle look beautiful in your bathroom, but you can relax, unwind and create your own luxury spa experience at home with these French Lavender Bath Salts.
When sprinkled under running water, the salts release French Lavender flowers to create a moisturising and relaxing bath. The sea salts help naturally cleanse the skin without drying and causing irritation. 
Spoil yourself or a loved one, with this little bit of beautiful calming me-time, in a bottle!
Size 250g / 8oz

Size 250g / 8oz

Clear glass bottle
Waterproof label
Dermotologically tested
Not tested on animals
No Parabens
Made in England