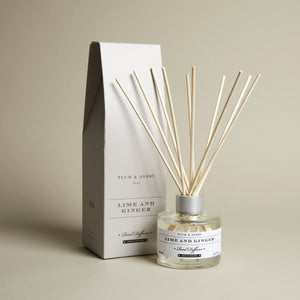 This has been one of our most popular diffusers and it is easy to understand why.  I always have at least two diffusers in my cottage.  I particularly like to place one by the front door so there is a welcoming and beautiful scent whenever I, or visitors, come through the door and I simply adore this one with its zesty and spicy fragrance that always smells fresh. 
Beautifully packaged in a white, vintage inspired numbered box complete with 10 reeds, this diffuser is made in England with 120ml of the finest blended and sustainably sourced fragrance oils and it lasts around 6 months! 
120 ml with 10 reeds. Fragrance will last around 6 months.
Customer Reviews
24/06/2020
Libby G.
United Kingdom
A gift for my Mum!
Rhubarb and Hare sent this directly to my mother during lockdown, she was really missing all of the family and needed a boost. My mother absolutely loved it, said the packaging was exquisite and the diffuser smelt delicious and the scent lasted really well. Thank you Rhubarb and Hare for helping to cheer my mother up.