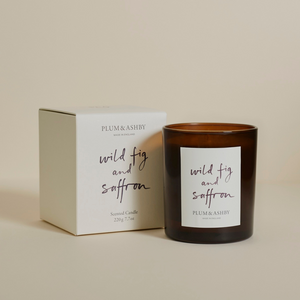 This fragrance from Plum & Ashby is my candle of choice at this time of year when there's frost on the ground and a chill in the air.  Like all their scents, it's fresh and clean smelling with the soft and sweet fragrance of leafy green, sharp blackcurrants and milky-sweet fig but with dried fruits and earthy saffron at its core, all underpinned by soft amber, heady patchouli and warm vanilla.
The beautiful blend of fragrant and zesty aromas creates a wonderfully relaxing scent. 
Made in England all Plum & Ashby luxury candles are made with 100% natural plant wax, and they're presented in special recycled brown glass packaged within a grey box.
230g / 8.1oz

60 hour burn time

Recycled glass vessel
100% natural plant wax
Vegan friendly
Not tested on animals
Made in England