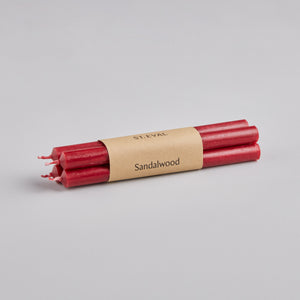 I adore the smaller size of these candle bundles from St Eval.
These sandalwood candles come in a pack of four, each one handwrapped with a label and loop of raffia at their factory nestled on the North Coast of Cornwall.
Sandalwood is a deliciously warming scent all year round but it does come into its own in Autumn & Winter with its fine and natural blend of warm musk and woody scents.
And whilst they may be small each candle can burn for up to 3 hours.  They are perfect for dressing the dinner table or mantlepiece.  Each pack contains four candles and is hand wrapped with a label and a loop of raffia. 
Each small candle can burn for up to 3 hours
Size: 1/2" x 6" 
Each bundle has been hand wrapped and contains 4 candles