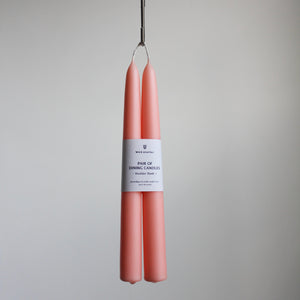 These artisanal beeswax candles are handmade in small batches with the utmost care and attention by the the Wax Atelier studio in London.
Hand-dipped they are made from a blend of 100% natural beeswax and natural dyes from the madder root plant.  When lit, they release a gentle aroma of matcha tea and honey.  
I adore this pink hue - a deliciously almost rhubarb pink that will look beautiful on any mantelpiece or dining table this season.
Wax Atelier are passionate about sustainability and environmentally low-impact processes.  Most of their materials are sourced locally and they use natural materials like beeswax, plant wax with natural dyes for colour. Because of this, each small batch, made-by-hand, can vary slightly in colour and size. 

It is this passion and attention to detail which makes these candles so special and unique.
Also available in a Stubby (Pair).
Sold as a pair
Materials: 100% pure beeswax, wax dyes, cotton wick
21 cm x 2.1 cm / 6-7 hours (per candle)
CANDLE CARE

Do not burn in direct sunlight or near any source of heat

Never leave a burning candle unattended

Burn out of reach of children and pets

Trim the wick between burns to 10mm

Remove any debris that may collect in the wax pool around the wick once it is safe to do so

Do not allow the candle to burn all the way down, and extinguish before it burns into the holder
Wax Atelier candles are all handmade in house with great care and attention. Each batch is unique and therefore colour and size can vary slightly.

You can view the full Wax Atelier collection available at Rhubarb & Hare HERE